After acquainting myself with as many foodie recommendations possible, my boyfriend and I went to Paris for a long weekend.
I cajoled him into visiting
Berthillon
. I had already my flavors rehearsed too, salt caramel and chocolate. What is this salt caramel craze sweeping Paris? I don't know, but I like it!
While standing in line I also saw that they had Mirabelle plum sorbet -- Mirabelle is a particularly adorable tiny yellow and blush variety of plum that is exceedingly sweet. So I asked my boyfriend to order that one separately.
And lo and behold, the couple in front of us asked for their luxury French ice cream ... in a giant macaron! Having had the same phenomenon happen to us in Agrigento (they asked for their gelato in a brioche), I made my boyfriend order the sorbet in a pistachio macaron.
The results? Turns out that the macaron ice cream sandwich was merely pleasant, not as fulfilling as a brioche with gelato, but that might have been the flavor combination choice. Next time I make macarons, I'll try again. I could think a nice raspberry flavored one might work, or a chocolate macaron with chocolate ice cream. It's a hand held treat.
However, the salt caramel ice cream was every bit as good as promised. Once you get to the tiny isle that Berthillon, walk past every single one of the cafes which say they have Berthillon ice cream (glaces) because the Berthillon shop is farther down and has the widest assortment of flavors. I almost missed out on salt caramel ice cream because we were deceived and it was a hot sunny day in Paris.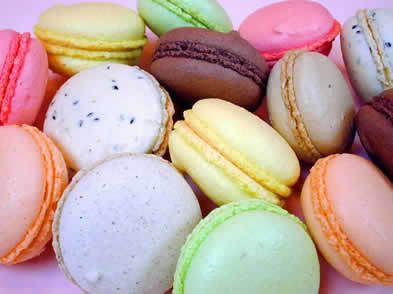 In other Parisian notes Laduree needs no further recommendation, but the salt caramel macarons were also divine!